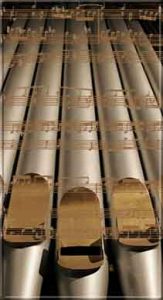 The Organ Library of the Boston Chapter, American Guild of Organists, is located at the School of Theology on the campus of Boston University. The Organ Library is a repository of music written or transcribed for the pipe organ, as well as books pertaining to the history of organ music and organ performance. It includes the archives and papers of notable concert organists.
The mission of the Organ Library & Archives is to collect, preserve and make accessible to scholars and performers its holding of works for the organ, important related literature and unique archival materials.
Project: Identification of the composition of E. Power Biggs Recordings
The Library is asking for volunteers to help identify the information on it's holding of E. Power Biggs recordings. If you would like to participate in this project, please click here.
Important links:
E. Power Biggs Recordings
Music Sales
Collections of the Library
To go to the full website of the Organ Library, click here
Please send an e-mail message orglib@bu.edu to arrange a special visit. Specific questions may be submitted by e-mail to the Library Administrator, Carl Klein. The Library Phone is 617-353-9339; messages are heard periodically.
Monthly Reports from the Organ Librarian can be found here
Organ Library Reports
| | JAN | FEB | MAR | APR | MAY | JUNE | JULY | AUG | SEPT | OCT | NOV | DEC | REPORTS |
| --- | --- | --- | --- | --- | --- | --- | --- | --- | --- | --- | --- | --- | --- |
| 2022 | | | | | LIB05 | | | | | | | | |