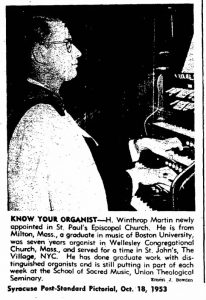 This page contains the history of the Boston Chapter of the AGO from 1905 to 1954. This is a transcription of the doctoral dissertation of Harold Winthrop Martin, which he wrote a in partial fulfillment of the requirements for the Master of Sacred Music degree at Union Theological Seminary, New York City. It includes information on Chapter Deans, Chapter recitals and programs, and Conventions, both regional and National. This is a searchable .pdf file.
To view the document, click here
A short history of the early years of the Boston Chapter is also available. This is an excerpt from "The Story of the American Guild of Organists" and is the condensed early history of the New England Chapter, as it was then called. It is written by Herbert C. Peabody in collaboration with Hamilton C. Macdougall.
To view this document, click here