"A History of the American Guild of Organists in Boston, Massachusetts 1905-1954" was written by Winthrop Martin in partial fulfillment of the requirements for the Master of Sacred Music degree, Union Theological Seminary, New York City (April 1, 1954).
The work has been digitized and can be accessed here.
Biography of the Author: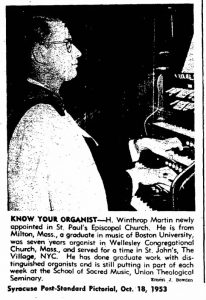 H. Winthrop Martin was born in Boston the twin son of Dr. Harold W. and Mildred (Cook) Martin. He grew up in Milton, Massachusetts, and attended Milton High School, Class of 1939. He studied piano with his mother until age 11, then with her teacher who had been a pupil of Isidor Phillipe at the Paris Conservatory. He served as organist-choir director at several Boston churches, including seven years at the Wellesley Congregational and then enrolled as an organ and church music major at Boston University with Francis W. Snow. After he received his Bachelor of Music degree, he studied for two years at the school of Sacred Music at Union Theological Seminary in NY, where he received his M.S.M. degree. In his senior year, he commuted weekends to Syracuse to become an organist and choir master at St. Paul's Episcopal Church downtown. He served there for 15 years, and later at the First English Lutheran Church on James Street for 10 years. In 1979, he began his 21-year tenure at St. Alban's Episcopal Church in Syracuse, retiring in 2001. Mr. Martin taught many piano and organ students; he also was a music teacher at St. Charles Catholic Church in Westvale. At Syracuse University he studied organ with Arthur Poister, and theory with Joseph J. McGrath. He was active in Syracuse Chapter of the American Guild of Organists, serving as Dean. Later he held both the AAGO and ChM certificates. Mr. Martin was also president of Central New York Association of Music Teachers, of the Eltinge Music Guild, and Pro-Art. Mr. Martin was an avid fan of Sherlock Holmes, and an active member of The Mycroft Holmes Society of Syracuse. Mr. Martin passed away in 2014.