UPDATE : Upcoming May Program – See Programs Page
May 21 – Franck Gala
Scott Dettra playing the complete works of Franck at Methuen — is a FREE event. Rounding out the day, Professor Christopher Anderson (Southern Methodist University) will lecture on "Franck among the Germans," linking the music we hear with the Methuen organ's German heritage. Lunch has been switched to "on your own," with a two-hour break so that no one need rush. We look forward to seeing as many as possible at this gala event, either for morning, afternoon, or both!
The Chapter's May Program will be at Saturday, May 21st at Methuen Memorial Music Hall with Scott Dettra. To download the flyer, click here.
---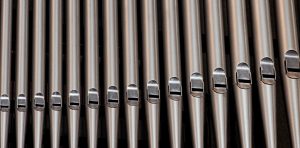 Chapter Programs for the Fall 2021 are now listed on ourPrograms Page.

Dates for some events have been updated. Please check the Programs Page for the latest information

---
A hearty congratulations to BAGO member Dr. Eileen Hunt upon her election as President of the American Guild of Organists! Dr. Hunt cast a compelling vision for her time as leader of the national organization, and we can look forward with excitement to the ways AGO is poised to benefit from her copious wisdom and experience. Well done Eileen!
---
*Sponsored Content

---
*Sponsored Content
Music at Trinity
Our Fridays at Trinity organ recital series is one of the most successful weekly organ series in the country, hosting 35 recitalists per year from across the globe. To learn more, click here
---

*Sponsored Content
Organist/Choir Director Wanted
(To expand the job description click on "V")
First Congregational Church UCC, Milford, New Hampshire is seeking an Organist/Choir Director for a position starting September first, 2022.
First Church has an Andover 2-25 tracker organ, a Yamaha grand piano, both professionally maintained. The church also has two octaves of handbells. The Choir is made up of 8-14 enthusiastic adults.
The Organist/Choir director will be responsible for one weeknight choir rehearsal and a rehearsal prior to the 10:00 AM Worship service. Special services for Maundy Thursday and Christmas eve are also required.
The Organist/Choir director has first refusal on all weddings and funerals conducted at the church.
The Organist/Choir director consults with the Pastor in choosing anthems appropriate to the ability of the choir. The musician is also consulted in hymn selection. There is a budget for acquiring new music and professional development.
Application with a letter of interest, CV and two references should be emailed to
milforducc@firstccmnh.org
or mailed to:
First Congregational Church UCC Minister of Music search Committee
PO Box 188
Milford, NH 03055
Applications will be accepted until May 27, 2022
Salary to be negotiated based on education and experience.
---
Boston Library Offers Franck "Verset in Fm" for download
In honor of Franck's 200th year, Carl Klein, Boston Organ Librarian, scanned this "Verset in Fm" of Franck's and put it on the Library website for all. It's out of copyright, so this offering is legal.
This was part of a group of pieces for church organists initially issued in several volumes under the title of L'Organiste, and "pour Orgue et Harmonium." But it is not in the 59 pieces of that collection, although in identical typeface and lettering. Belwin-Mills reprinted L'Organiste in facsimile in 1975, with an interesting introduction by Carleton Russell. Barbara Owen has recommended use of some the pieces from this volume as preludes or offertories over the years. The low pitched bass lines of these collections could easily be played on pedals if one wished.
What is interesting is that these relatively short and uncomplicated pieces, intended for Franck's colleagues and students who were church organists, were his last works, published serially in August and September of 1880. It may simply have been written for a later volume that was not completed. Apparently more were composed, but not published until after his death in November of that year. Well, Bach's last works were chorale preludes, thus also intended for use by his fellow church organists.

~ Carl Klein and Barbara Owen, Boston Organ Library
To download the music, click here
---
Code of Ethics
The Boston Chapter of the American Guild of Organists adheres to the National Organization's Code of Ethics. To review the current policy, please click here
---
And please subscribe to our new YouTube Channel by clicking here.
---
2020 – 2022 Officers and Executive Committee
Our Chapter has elected the following people as Officers of our Chapter:
Dean: Jeremy Bruns
Sub-Dean: Mitchell Crawford
Treasurer: Daryl Bichel
Secretary: Jeffrey Mills
Registrar: Jeffrey Mills
Election Coordinator: Claire DeCusati
Members at Large- Class of 2024
Christine Hogan
Cathy Meyer
Jonathan Wessler
Our continuing Members at Large – Class of 2020 are:
Alain Bojarski
Terry Halco
Father David Michael
Please congratulate these leaders of our Chapter!
---
Deans of Our Chapter

The Massachusetts Chapter was founded in 1905. Our first Dean was George Albert Burdett (pictured here). Our website now has photos and biographies of all of our past Deans. You may view that resource by clicking here.
If you have any additions or remembrances of past Deans to add to our page, please contact us.
The History of the American Guild of Organists in Massachusetts by H. Winthrop Martin is being digitized. This resource includes Deans' biographies from 1905 through 1954, along with programs and recitals held during those years. The full history of those years is available now by clicking here
---
*Sponsored Content: The Boston Chapter of the American Guild of Organists accepts a limited amount of advertising in order to provide financial support for the chapter. Acceptance and publishing of the advertising does not constitute an endorsement or recommendation of the advertiser by the chapter. Contact the webmaster for information on placing advertising, which is subject to approval of the Executive Committee of the Chapter, in its sole discretion.