3, The Green, Medford, MA 02155
Updated 2014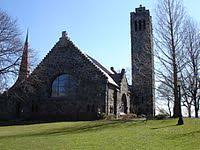 At the time of its dedication in 1883, Goddard Chapel was much-admired by Boston-area newspapers and magazines for both its exterior and interior design. Architect J. Phillip Rinn, who subsequently designed Barnum Hall and a portion of the Metcalf Dormitory at Tufts, chose Lombardic Romanesque style for the chapel. Indeed, both the chapel's hundred foot bell tower and its cloister, a covered porch on the chapel's east side, are distinctly Romanesque features. The exterior stone for the chapel, a blue-gray slate, was quarried locally in Somerville. Rinn's plans for the chapel included ivy to cover or "soften" the austerity of the stone-work.
Complimenting the exterior, the interior sanctuary also followed medieval Romanesque motifs. Particularly notable are the ribbed ceiling and the arched woodwork above the stained-glass windows. A variety of woods was used in the construction of the chapel interior. The pews, the pulpits, and ceiling ribs are made of cherry; the floors are made of oak; and the paneling is made of spruce. With only minor exceptions, all of the original woodwork is intact. – from the Tufts Chaplaincy website
The organ is located on the left side of the chancel matched by a sacristy on the right side. During the 1950's, the chapel was "modernized" by removing the cherry stained wood decorations and panels in front of the case pipes. A screen was erected covering the entire upper portion of the organ. This was matched on the other side by removing the same wood pieces and stained glass panels, which made up the lower part of the design. Three of these panels were hung on a wall in the foyer of the chapel. The ceiling was painted blue and the front panels of the chapel were painted white to brighten the room.
Andover Organ Company was contracted not only to rebuild the organ, but also to remove the 1950's panels and restore the entire front of the chapel, including the woodwork and stained glass panels. Fortunately there was a photograph showing the original front of the chapel and we were able to reconstruct the missing pieces. In searching the basement for any remains of the original woodwork, Jay Zoller and Al Hosman found, in a pile of rubble designated to go the dump, a fourth stained glass panel that was located on the side of the sacristy. It was in bad shape, but now has been restored. The gold painted case pipes were originally covered in a copper powder that matched the coppery colors of the stained glass. The case pipes were stripped and recovered in a copper powder.
While the organ was removed, the University had the ceiling stripped of its blue paint and the front panels stripped of their white paint. The result of the entire process is stunning and close to the original look of the chapel. – from the Andover Organ company website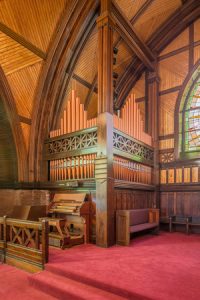 Hook & Hastings, Op. 1134, 1883