66 Winthrop Street, Cambridge, MA 02138
Data updated November, 2020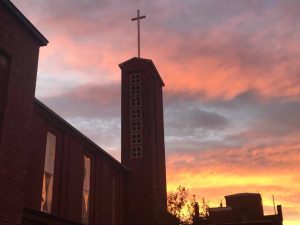 University Lutheran Church is located in the heart of Harvard Square in Cambridge. Affiliated with the Evangelical Lutheran Church in America, it is a Christian ministry of and to members of the academic communities of Cambridge and greater Boston, as well as a congregation of young and old, students and resident members. The congregation was founded in 1928, and now worships in a 1951 mid-century modern building. The building and its architect, Arland A. Dirlam, were awarded the Harleston Parker Medal in 1952. This prestigious annual award seeks to recognize "the single most beautiful building or other structure" built in the metropolitan Boston area in the past 10 years.
Music plays a vital role in the worship life at University Lutheran. UniLu's current organ was built in 1971 by The Noack Organ Company. It is a fully mechanical action organ with two manuals, 11 stops, and 15 ranks While small, it is remarkably versatile and delightful to play. It is tuned to the Vallotti temperament. The Brustwerk can be enclosed by hand-operated doors. The organ received a substantial overhaul in 2014 including cleaning, revoicing, and other adjustments.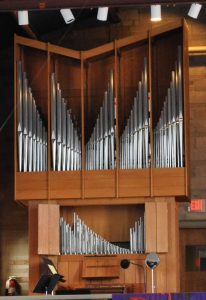 Builder: The Noack Organ Company
Year: 1971 Two Manuals and Pedal
Mechanical action, registers and couplers
To view more information on The Noack Organ Company website click here