206 Clarendon St
Boston, MA 02116

Data updated 2019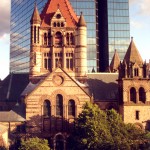 Forty-five hundred trees pounded into alluvial muck hold up Trinity Church, a perennial presence on the American Institute of Architect's shortlist of greatest buildings in America. Three men in their thirties made it happen: Phillips Brooks, the charismatic preacher from Philadelphia, architect Henry Hobson Richardson, as yet relatively untried but with sterling Harvard connections, and an artist known only for miniature watercolors, John La Farge. Together they transformed one another and American architecture with a "color church" light years distant from the era's prevailing vocabulary. Richardson's Greek-cross plan draws upon Romanesque churches in the Auvergne and the tower of Salamanca Cathedral, familiar to him only through books. John La Farge's mural program was the first in America, hastily completed under grueling winter conditions just in time for the church's dedication in February 1877. Magnificent stained glass by La Farge, Oudinot, Clayton & Bell, Edward Burne Jones and William Morris intensify the pervasive glow of Pompeian red. A number of young apprentices launched distinguished careers here, among them Augustus Saint Gaudens, Charles McKim, and Stanford White.
Music has been integral to Trinity since the arrival of the first organ in 1744, and the Vestry's decision in 1785 to set aside a pew for "such Persons as chuse to set in it who are capable of leading in the Singing." For such a progressive new building, the organ could come only from Hilborne Roosevelt of New York, pioneer of electric-action and forward thinking. The choice surely irked Boston builders: first that German concert organ in 1863, and now this? Installed in the church's southeast corner, the Roosevelt reached five stories, from basement water motors to chancel ceiling Echo. But the location muffled the tone, not just of the organ but also the singers. Within a year, proposals surfaced to relocate all musical forces to the rear gallery.
Thus in 1880 began a musical ricochet around the building. The Roosevelt was divided into the west gallery at either side of La Farge's "Christ in Majesty," and updated in 1900 by James Cole. By 1902, however, Trinity acceded to the fashion for vested choirs of men and boys, hence a chancel organ by Hutchings-Votey, a modest three-manual with a console to play both organs. In 1924 the Skinner Company took over, first with a towering four-manual console and then, in 1926, a 54-voice nave organ. Certain details seemed to reflect organist Francis Snow's French tastes: three Great opens but no double; two Swell oboes (bright and dark); a Choir 8 Trumpet. Louis Vierne singled it out for praise after a recital in April 1927. "Not a day passes," he wrote to Skinner, " that I don't dream about your magnificent instruments I played over there; their marvelous touch, their fine tone, their perfect and sensitive action haunt me. It seems as though I were dreaming when I think of Trinity Church, Boston…"
When the chancel was renovated again in 1938, Ernest Skinner & Son made tonal changes to both instruments, most notably exchanging the wood 32ft Bombarde for a Fagotto. (The big pipes were recycled into Skinner & Son's new organ for Washington National Cathedral.) With George Faxon's arrival at Trinity in 1954, the organs began tacking to an American Classic course. In 1956 came a compact three-manual Aeolian-Skinner console, and in 1963 a new chancel organ. Beginning in 1961, curator Jason McKown refashioned the sound of the nave organ, using many new Aeolian-Skinner pipes. By 1972 Faxon and McKown had achieved across 108 ranks a mild, even and elegant spread: the American Classic in its suaver guise, enriched with the best of Skinner's remaining orchestral tones. Faxon's service playing was restrained, but in recital, his registrational whimsy and rhythmic accuracy were an ideal match to the organs' combined resources. Guest organists for Sunday evening choral offerings through the 1970s (Frederick MacArthur, Earl Eyrich, Thomas Murray) gloried in putting the organ through its louder paces, accompanying choral forces sometimes exceeding 100.
Ronald Arnatt's brief tenure on the bench set in motion a new direction for the organ, with the dramatic loudening of the nave Swell and Solo trumpets. Brian Jones' time saw the addition of the copper trumpet beneath the west window in 1987. Initially voiced by Jack Steinkampf, it was subsequently mellowed by Zoltan Zsitvay of Austin Organs, Inc. The organ was mechanically rebuilt in phases by Foley-Baker; between 1999 and 2001, the nave organ, including new mechanism for the Solo and Choir when the originals were damaged by water after a fire in thee northwest tower. Foley-Baker overhauled the chancel organ in 2007.
A new four-manual console, designed and built by J. Zamberlan & Co. and Richard Houghten, was installed in July 2018. The cabinet follows design cues from chancel furniture of the H. H. Richardson period. The walnut interior adopts Skinner dimensions and aesthetics. The swell indicators and selectors are housed within modern approximations of bakelite bezels, while all of the engraving is a digitized reconstruction of Skinner's hand-engraving. Among the panoply of technological features, each shutter front can be assigned to any or all of four balanced pedals, and those choices set on general pistons.
Planning for a tonal renovation began in 2012, with a goal of returning the nave organ closer to its 1926 Skinner roots. Toward this end, over the following five years Trinity began to acquire vintage Skinner and early Aeolian-Skinner pipework. This project began in 2017, planned and overseen by Jonathan Ambrosino, and a collaboration of his team and Foley-Baker. All pipes are either original or vintage, save for part of the Great IV Mixture, the Great Ophicleide and Tromba; and the Solo Tuba Mirabilis. A replica 32ft Bombarde should crown the project in 2020. The chancel organ remains unchanged.
With 94 stops, 113 ranks, and 7,061 pipes this is Boston's second-largest organ. It is heard more often than any other in the city, at three Sunday services, 30 annual Friday afternoon recitals, and major concerts through the year.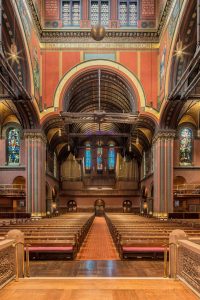 Skinner Organ Company, Opus 573, 1926
Aeolian-Skinner Opus 573-A-B-D, 1961-1967, with Jason McKown
Foley-Baker: mechanical renovation 1999-2001
Foley-Baker Inc. and Jonathan Ambrosino, tonal renovation (nave), 2018-'19