Address:
250 Massachusetts Ave, Boston, MA 02115
Data updated 2014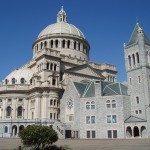 The Mother Church and headquarters for Christian Science worldwide, The First Church of Christ, Scientist's original Romanesque Revival building opened in 1894 on an unusual trapezoidal lot and was quickly outgrown; the adjacent Extension of 1904–1906 seats some 3,000. Architect Charles Brigham's original Ottoman-inspired design was substantially altered by Solon Spencer Beman along classical Renaissance lines, dispensing with plans for corner towers and a minaret-cum-campanile. The result owes much to Venice's Santa Maria della Salute. A belt of New Hampshire granite around the Extension's base cleverly ties the two disparate buildings together. The 1934 publishing house building is home to the Mary Baker Eddy Library and its famous Mapparium. I.M. Pei & Partners, with Araldo Cossutta, fashioned the surrounding administrative buildings and reflecting pool in the early 1970s.
The three-manual Farrand & Votey organ for the original edifice comes from that builder's five short years of existence, between 1893 and 1898. Some of its pipes were retained in Aeolian-Skinner's otherwise new and fairly typical three-manual of 1951, Opus 1202. While the 1894 façade was retained, the organ itself was placed in the ceiling so as to increase space for the 235-rank organ next door in the Extension.
Aeolian-Skinner's Opus 1203 is the largest single organ the firm ever built (to begin with, there are five Pedal mixtures). G. Donald Harrison and consultant Lawrence Phelps collaborated on the tonal design. Having worked for Aeolian-Skinner from 1944 to 1948, Phelps had spent a brief period with Walter Holtkamp before returning to Boston for this project. (Phelps' wife, Ruth Barrett Arno Phelps, was the Mother Church organist.) The complex scheme includes four unenclosed departments, each with multiple-mixtured choruses and cornet voices, against three enclosed departments. The Solo lives apart from the rest, in a separate, elevated chamber speaking out of the circular grille at the upper left, where the original 1906 Hook-Hastings Echo had been located. Altered by Jason McKown and Jack Steinkampf in 1980 and 1981, the organ underwent a complete mechanical refurbishment by Foley-Baker, Inc. between 1997 and 2000. A now-aged Phelps returned to coordinate all work, including a few changes and additions. Tonal work was handled by Austin Organs, Inc. under the direction of David Broome and Daniel Kingman, the latter doing much of the on-site finishing.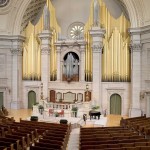 Aeolian-Skinner Organ Co., Opus 1203, 1952 Stoplist