645 Boylston St
Boston, MA

Data updated 2014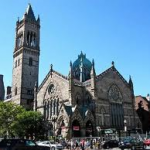 Originally known as New Old South Church ("new" being 1875), to distinguish it from still-standing Old South Meeting House (1729), this is the third home of a congregation gathered in 1669 that has counted Benjamin Franklin, William Dawes, and Samuel Adams among its members. Cummings & Sears adapted John Ruskin's Venetian Gothic style to a corner lot in a masterful way, evoking hints of Basilica San Marco. In 1905, Louis Comfort Tiffany replaced the original interior stenciling with his own in purple and metallic silver, covering Clayton & Bell's stained glass with purple glass, as well. That decorative scheme perished under a coat of battleship grey paint in the 1950s, followed by a skillful if muted approximation of the original interior in 1984. As if in sympathy with the collapse of San Marco's campanile in 1902, Old South's bell tower began listing by the 1920s and had to be pulled down and rebuilt slightly lower in 1937.
George Hutchings trained in the Hook factory, but when it became clear that Francis Hastings was to assume the reins, Hutchings set out on his own in 1869. His large three-manual in 1875 for the gallery of Old South showed just how quickly he brought his establishment up to speed, for here was an instrument comprehensive in both tone and mechanism, with Barker Levers alongside a free-reed Physharmonica. Behind the same case, Ernest Skinner installed his Opus 231 of 1915, retaining the east-end location for a Solo and thirty-two-foot Bourdon. With three thirty-two-foot voices, and larger than Skinner's 1913 flagship at New York's Saint Thomas Church, the Old South instrument was Skinner's first truly large opus on home turf.
In 1969, ninety-three ranks of Reuter arrived, divided between gallery and chancel with consoles in both locations. The Skinner's thirty-two-foot Violone and Bombarde were retained, the latter a leaden foundation under the Reuter's lean, steely sound. The church decided to revert to Skinner after a dozen years, inspired by news that a large 1921 organ, similar in scope to Old South's 1915 instrument, was about to be demolished along with its home, the Auditorium in Saint Paul, Minnesota. Saved from the wrecking ball, Skinner Opus 308 was brought to Massachusetts. A partnership of Casavant Frères and Hokans-Knapp took charge of the organ's rebuilding and re-engineering. For the first time, all musical forces would be grouped at the east end with the clergy. Great and Pedal were installed behind the chancel screen, with Swell and Tuba Mirabilis stacked in the south tower, and Choir, Solo, and String in the north. The thirty-two-foot pipes are dotted about the landscape: Violone in the northeast, Bombarde in the southeast, Dulciana (ex-1915 Skinner Violone) in the south tower façade, wood Diapason in the west gallery. Nelson Barden undertook extensive rebuilding and tonal renovation from 1986 to 1990, using vintage Skinner pipework and new material from Austin and Schoenstein. In 1996, Austin supplied all-new Gallery manual pipework. With 115 ranks, this is Boston's second-largest organ.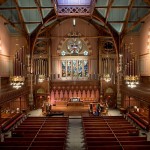 Skinner Organ Co., Opus 308, 1921
Casavant Frères, Ltée and Hokans-Knapp, Associates – 1982-1984, rebuilding and reconfiguration
Nelson Barden Associates, Inc. – 1987-1990, rebuilding and tonal changes