70 Colchester St, Brookline, MA 02446
Updated 2014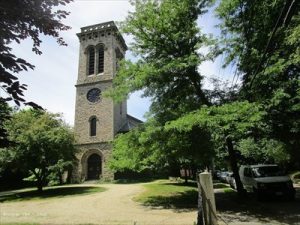 Sears Chapel (also Christ Unity Church), which was built in 1866.
The church is located on the Brookline (western) side of the Muddy River and is near the Longwood Medical Center.
The church is a stone building, with the main entrance on the east end. At this end is a square bell tower extending well above the peaked roof. The bell tower also has a circular window above the door. The other end has a series of stained glass windows in a bowed out section.
The church was built in 1866, according to a history book found online by Hon. David Sears. The structures was a copy of a church in Colchester, England. It was dedicated in 1862 and named "Christ's Church," which has been since been known as "Christ's Church, Longwood." His objective was to furnish a church, "where might worship in the unity of the spirit and the bond of peace."
Today, the Unity Church denomination occupies this church and has interdenonimational services.
The Sears Chapel houses the conserved, all original 1861 E & GG Hook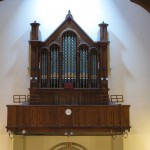 E. & G.G. Hook, Opus 307, 1861
Sean O'Donnell & Associates, restoration, 2007