351 Boylston St.
Boston MA 02116

Data updated 2014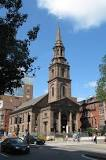 The first public building to be erected on the landfill of Back Bay, Arlington Street Church was begun in 1859 and dedicated in 1861. Architect Arthur Gilman took the London church of Saint Martin-in-the-Fields as his exterior model, reinterpreted in New Jersey brownstone and supported by 999 wooden piles driven down into the swampy marsh of the Back Bay. The interior owes much to the Basilica della Santissima Annunziata del Vastato in Genoa. A 190-foot steeple houses its original chime of sixteen bells. Inside, an exceptional ensemble of windows by Tiffany Studios spans the firm's work from 1898 to 1930. Gathered in 1729 by Scottish Calvinists, the congregation evolved into a bastion of Unitarian Universalist liberalism under William Ellery Channing (1780–1842), becoming, in 2004, the site of the first state-sanctioned same-sex marriage in the United States.
Aeolian-Skinner Organ Co., Inc., Opus 1307, 1957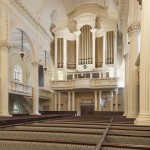 The 1958 Aeolian-Skinner was that firm's first major organ for Boston produced under the direction of Joseph Whiteford, following the 1956 death of G. Donald Harrison. The tonal design also reflects the proclivities of its prolific consultant, Edward B. Gammons, resembling other organs of his involvement, including Groton School and Saint Paul's Cathedral, Boston (both Aeolian-Skinners), and S. Stephen's Church, Providence (a 1955 Austin).