1773 Beacon St, Brookline, MA 02445

Data updated 2014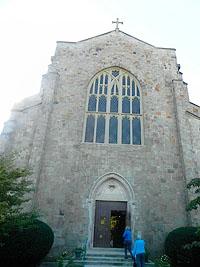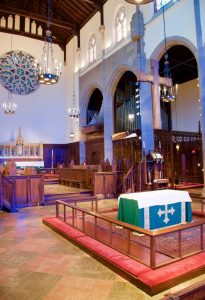 The organ at All Saints was built by Casavant Freres, of Saint-Hyacinthe, Quebec, Canada. It was installed in 1961, and was the gift of the Baldwin family in honor of John and Elizabeth Baldwin, founding members of the parish. Virgil Fox played the dedicatory recital.
It is an instrument of forty-six stops (fifty-six ranks): four manual divisions distributed over three keyboards, plus pedal. It was one of the earliest instruments to come from the venerable Canadian firm under the supervision of its then new tonal director, Lawrence I. Phelps. He had recently moved to Casavant from Boston's Aeolian-Skinner Organ Co. Phelps was well known in the Boston and national organ building communities as the designer of the Aeolian-Skinner instrument that had recently been installed at the Mother Church, The First Church of Christ, Scientist, in Boston, one of the largest church organs in the world at that time.
In the late 1990s the All Saints Casavant was completely re-leathered, and during the summer of 2001 the console was rebuilt and converted from electro-pneumatic action to direct electric action.