---
Upcoming Events:
Scholarship Auditions
Saturday, October 22nd 10AM
Plymouth Congregational Church in Belmont, MA (see below)
---
Scholarship Recipients' Recital
Tuesday, June 27th 12:15PM
King's Chapel, Boston
---
Next Auditions Will Be In
Spring 2023 For our 2023-2024 Season
---
BAGO Young Organist Initiative (YOI) Scholarship Auditions
October 22, 2022 at 10 AM
Plymouth Congregational Church 582 Pleasant Street, Belmont MA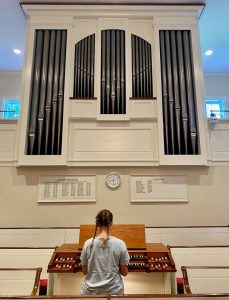 To Learn more about the YOI Program, click here
The YOI Program is resuming in-person auditions for our Scholarship Program. Auditions for the 2022-2023 Scholarships will be held Saturday, October 22, 2022 at 10 AM at Plymouth Congregational Church 582 Pleasant Street, Belmont MA. The scholarship is open to piano and/or organ students of all levels in grades 6-12 who have not been scholarship recipients within the past two years.
Scholarship recipients receive $1000 to use towards organ studies with BAGO instructor
Perform in recital at Boston's King's Chapel Tuesday, June 27, 2023 at 12:15 PM
2022-2023 Audition Application forms can be found here
For more information regarding these auditions or the Young Organist Initiative of the Boston Chapter, please click here or contact YOI Chair Christine Hogan
We are thrilled to welcome new teachers to our YOI program. We are working on making the process for including you in the list we publish on our website and share with musicians seeking new teachers. To stay current with recommended safety guidelines for both teachers and students, we are requiring all YOI teachers to undergo Massachusetts Criminal Offender Record Information (CORI) and Sexual Offender Records Information (SORI) background checks. If you would like to be included in our instructor list, please let YOI Chair Christine Hogan know and we can move forward.
---
BAGO Members:
Would you like to see more young musicians study organ?
Do you think young organists are important?
If so, there is an easy way with very limited time commitment for you to make this possible.
We are looking for BAGO Members with friendly and welcoming dispositions to help us with YOI Scholarship Auditions Saturday, October 22, 2022 from 10AM to 12 Noon at Plymouth Congregational Church, 582 Pleasant Street in Belmont. You will be tasked with welcoming auditioning students, sitting in on their auditions and offering feeback to the YOI Committee. Forms will be provided the day of the auditions to assist with these tasks.
To sign up, please contact Christine Hogan, YOI Chair.
---