---
*Sponsored Content

---
*Sponsored Content

---
*Sponsored Content
First Church of Boston
66 Marlborough Street
Boston, MA 02116
First Church Boston invites you to join in celebrating the 50th Anniversary of the installation of its Casavant Frères Organ with a concert in our bold and modern Paul Rudolph-designed building. We are pleased to have three of our former Directors of Music, Brenda Lynne Leach, Paul Cienniwa and Robert Jan August, as well as organ soloists from some of the historic churches in Boston and Cambridge: Peter Sykes of First Church Cambridge, Carson Cooman of Harvard Memorial Church, Heinrich Christensen of King's Chapel, Colin Lynch of Trinity Church Copley, and Jonathan Wessler of First Lutheran Church of Boston. This concert is free and open to the public. Join us and bring a friend to enjoy the beautiful music! For more information, click here or contact Music Director Gigi Mitchell-Velasco
---
*Sponsored Content
Pipe Organ Sound at a fraction of the cost
The leader in digital and hybrid organs as well as low cost residence practice organs has expanded its presence in MA!
Marshall & Ogletree Organ Builders in Needham has added Mr. Bill Thompson as a sales representative. Contact Bill with any questions you may have at 678-521-7200 or billinatlanta@gmail.com
Offering organs by Marshall & Ogletree, Rodgers and Johannus.
---
BAGO Young Organist Initiative (YOI) Scholarship Auditions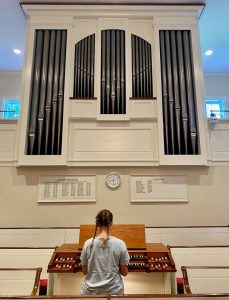 Scholarship Auditions for Young Organist Initiative
Saturday, October 22nd at 10:00AM
Plymouth Congregational Church in Belmont, MA
The YOI Program is resuming in-person auditions for our Scholarship Program. The scholarship is open to piano and/or organ students of all levels in grades 6-12 who have not been scholarship recipients within the past two years. For more information and an application, please click here.
---
BAGO Proctors needed for the YOI Auditions
Would you like to see more young musicians study organ?
Do you think young organists are important?
If so, there is an easy way with very limited time commitment for you to make this possible. For more information, click here
---
Boston Library Offers Franck "Verset in Fm" for download
In honor of Franck's 200th year, Carl Klein, Boston Organ Librarian, scanned this "Verset in Fm" of Franck's and put it on the Library website for all. It's out of copyright, so this offering is legal.
This was part of a group of pieces for church organists initially issued in several volumes under the title of L'Organiste, and "pour Orgue et Harmonium." But it is not in the 59 pieces of that collection, although in identical typeface and lettering. Belwin-Mills reprinted L'Organiste in facsimile in 1975, with an interesting introduction by Carleton Russell. Barbara Owen has recommended use of some the pieces from this volume as preludes or offertories over the years. The low pitched bass lines of these collections could easily be played on pedals if one wished.
What is interesting is that these relatively short and uncomplicated pieces, intended for Franck's colleagues and students who were church organists, were his last works, published serially in August and September of 1880. It may simply have been written for a later volume that was not completed. Apparently more were composed, but not published until after his death in November of that year. Well, Bach's last works were chorale preludes, thus also intended for use by his fellow church organists.

~ Carl Klein and Barbara Owen, Boston Organ Library
To download the music, click here
---
Code of Ethics
The Boston Chapter of the American Guild of Organists adheres to the National Organization's Code of Ethics. To review the current policy, please click here
---
And please subscribe to our new YouTube Channel by clicking here.
---
2020 – 2022 Officers and Executive Committee
Our Chapter has elected the following people as Officers of our Chapter:
Dean: Mitchell Crawford
Sub-Dean: Cathy Meyer
Treasurer: Daryl Bichel
Secretary: Joshua T. Lawton
Registrar: Jeffrey Mills
Members at Large- Class of 2024
Don Hodgkins
Christin Hogan
Jonathan Wessler
Members at Large – Class of 2026
Sean Glennon
Nigel Potts
Andrew Scanlon
---
Deans of Our Chapter

The Massachusetts Chapter was founded in 1905. Our first Dean was George Albert Burdett (pictured here). Our website now has photos and biographies of all of our past Deans. You may view that resource by clicking here.
If you have any additions or remembrances of past Deans to add to our page, please contact us.
The History of the American Guild of Organists in Massachusetts by H. Winthrop Martin is being digitized. This resource includes Deans' biographies from 1905 through 1954, along with programs and recitals held during those years. The full history of those years is available now by clicking here
---
*Sponsored Content: The Boston Chapter of the American Guild of Organists accepts a limited amount of advertising in order to provide financial support for the chapter. Acceptance and publishing of the advertising does not constitute an endorsement or recommendation of the advertiser by the chapter. Contact the webmaster for information on placing advertising, which is subject to approval of the Executive Committee of the Chapter, in its sole discretion.